Patina Yard Custom Barn Doors
Interior barn doors are a beautiful art piece in any home or office. We design and build custom barn doors using many mediums and finishes for any style desired. We fabricate sliding barn doors as well as barn door hardware such as barn door tracks and handles.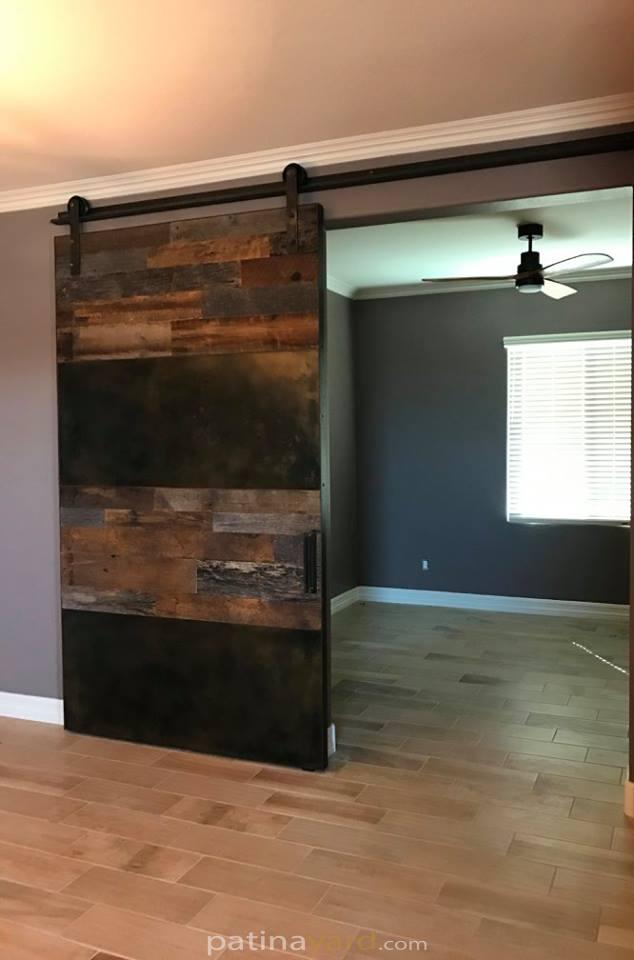 Reclaimed Barn Wood & Steel Barn Door
Barn door is made using reclaimed barn wood with steel panels. Steel has a weathered steel finish.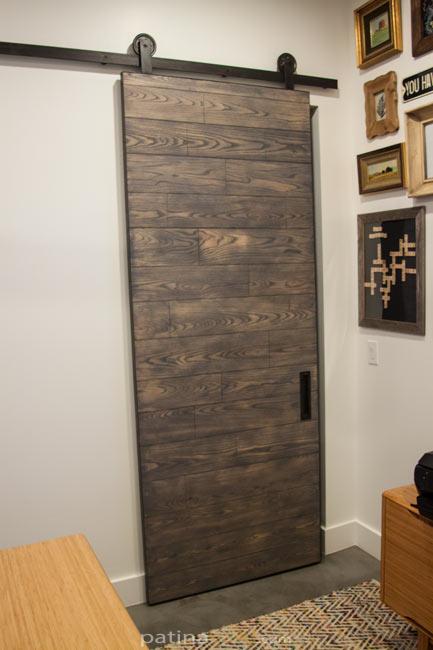 Hardwood Barn Door
Door is made using stained ash hardwood with a patina steel band around door. Door track and handle is custom made by us.
Contemporary Zinc Water Closet Barn Door
Door is made from pure zinc sheeting over a custom hardwood plywood core to cut weight a little. Patina steel is placed in the seams defining the lines. Barn door hardware and custom pocket handle is made from blacken steel.
Shaker Style Painted Wood Barn Door
This Shaker Style wood barn door can be painted any color and is made from solid wood and built to last. The hardware is a polished stainless steel. The door can be made any size and shipped anywhere is the U.S.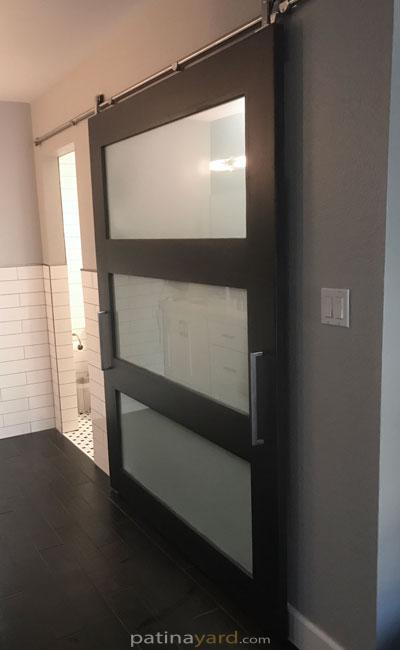 Large Satin Glass Shaker Barn Door
Shaker barn door made with solid wood frame and satin glass panels. Hardware is brushed stainless steel.
White Shaker Barn Door
Painted white barn door with black antique patina-ed barn door hardware and handle.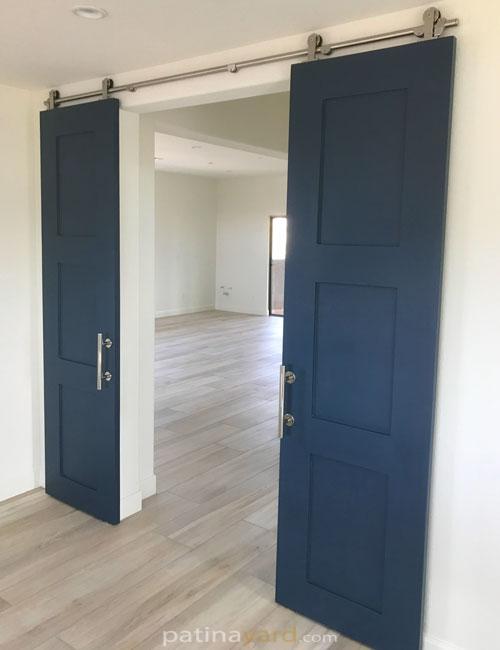 Navy Blue Shaker Double Barn Doors
Shaker barn doors are made using a solid poplar hardwood mortise together making a long lasting door that doesn't warp. Doors can be painted any color and hardware comes in polished or brushed stainless steel along with patina steel. Painted wood barn doors are a nice clean looking door. Doors fit into many styles such as traditional, transitional, farm house and contemporary.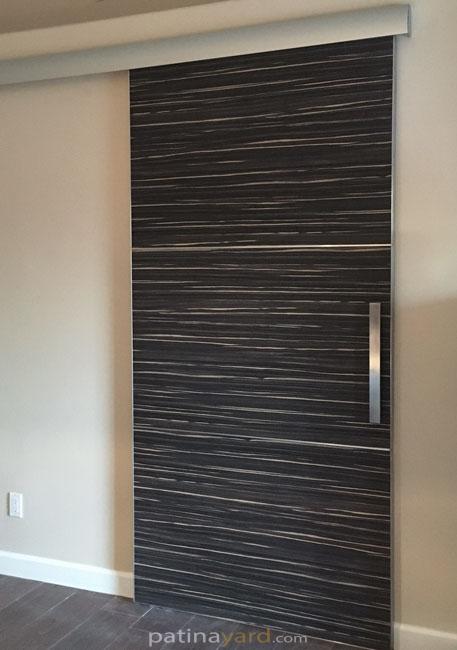 Modern Sliding Barn Door
Modern barn door is made using laminates "veneers". The laminate comes in many different colors and textures. The modern barn door hardware is made of brushed aluminum and is easy to install. Take a look at the options of laminates from our side menu to see all options.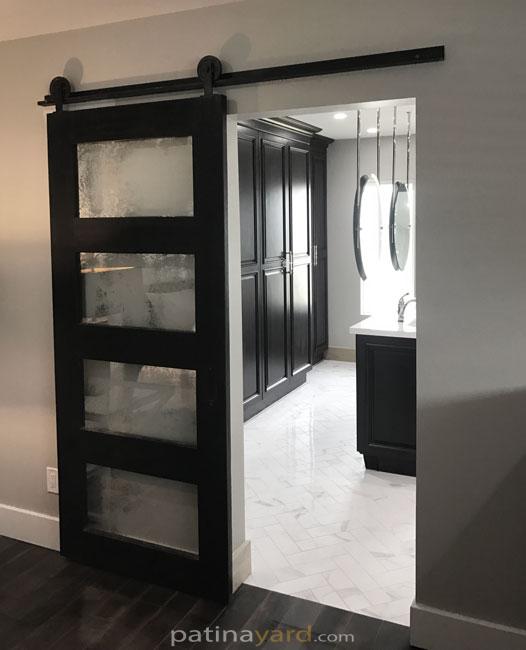 Charred Wood aka Shou Sugi Ban and Antique Mirror Barn Door
Charred wood barn door frame made with ash hardwood, custom antique mirrors and patina iron and steel barn door hardware. The style of barn door would go with traditional, contemporary and may go with an industrial style setting.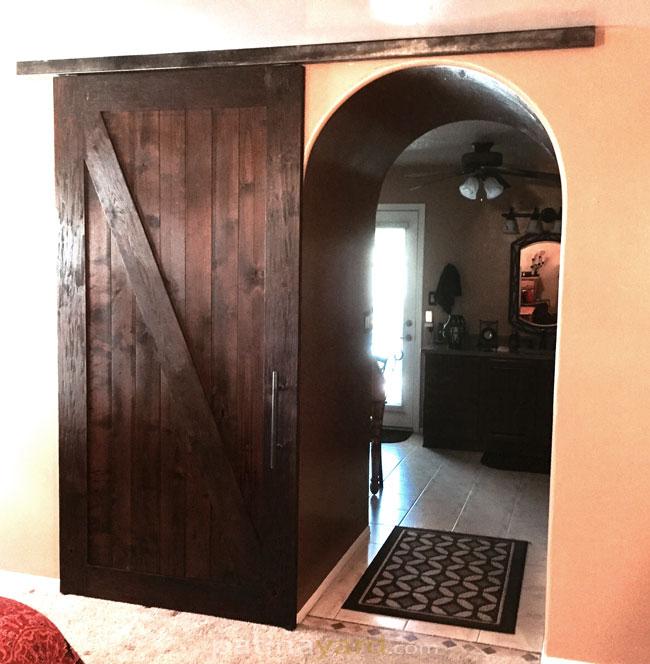 Ranch Style Barn Door
Alder wood barn door with wire wheeled wood frame and sanded center. This style of barn door goes with many types of styles and can be made with any type of wood painted or stained.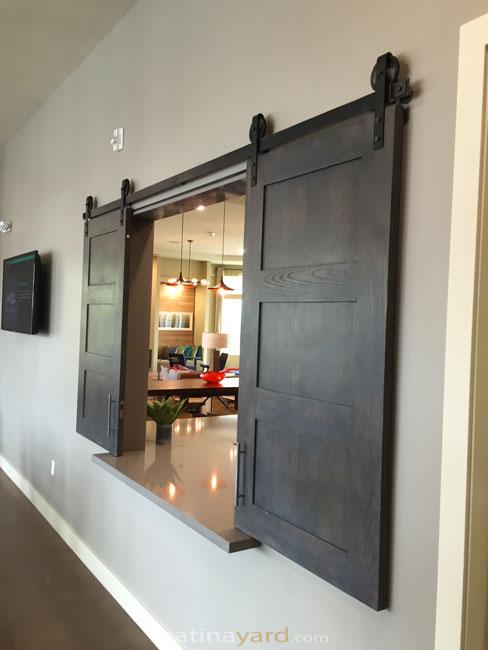 Double Shaker Style Barn Doors
Kitchen pass through double wood barn doors made of alder wood. Double barn doors can be made using any style of doors. Door has a mortise in lock to be able to lock doors from either side. The barn door hardware is what we call our rivet wheel barn door hardware.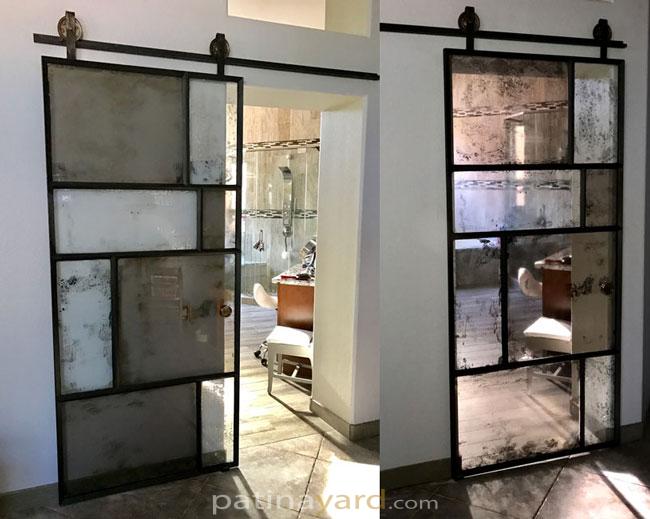 Artistic Antique Mirror Barn Door
Random antique mirror barn door made using mirrors. We stripped the coating from the back of the mirrors and antiqued the silver. The barn door hardware is custom made by us using roller bearing rollers and patina steel. This door can be made to any size and is a contemporary artistic style.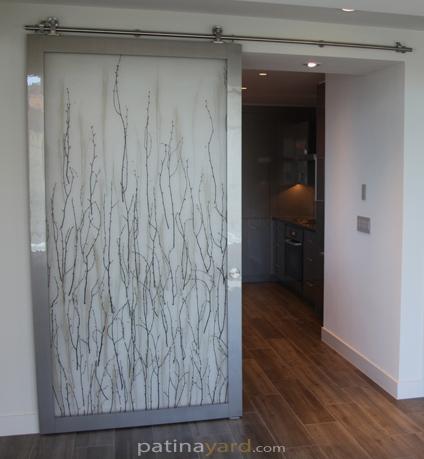 Modern Barn Door
Modern sliding barn door made using 3-Form made of Ecoresin with small branches in it. The door frame has a laminate called Brush Mercury with a high gloss finish. Hardware is brushed stainless steel.
Barn Wood and Patina Metal Barn Door
This barn door has a weathered finish with contemporary style hardware that we made using a patina to complement the door. The barn door hardware rolls well and this type of hardware is made to last forever.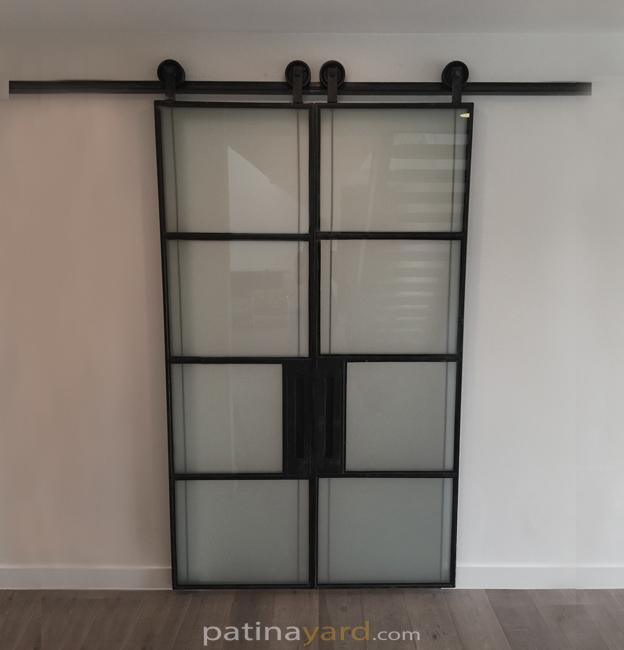 Blackened Iron and Satin Glass Panels Barn Door
Iron and glass barn doors are one of our favorites, a little tough to build but well worth it. The glass is flush on both sides with the satin finish on the inside. The glass can be clear, satin, antiqued mirror or many other types. The barn door hardware is made with patina iron and rollers and can have other color patina's applied.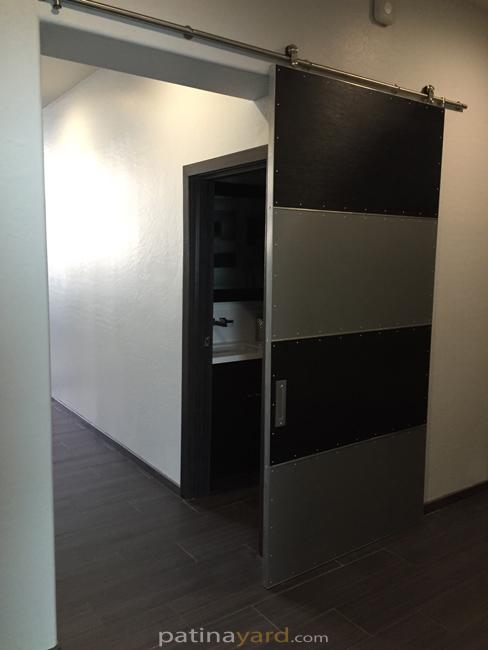 Contemporary Modern Barn Door
This is a nice clean well built sliding barn door with many options on style. This door has brushed aluminum wrapped around the four panels and in the seams. The hardware and the handle are brushed stainless steel which go very well with the brushed aluminum. This door can be changed up by using patina steel, patina steel rivets and other style of laminates.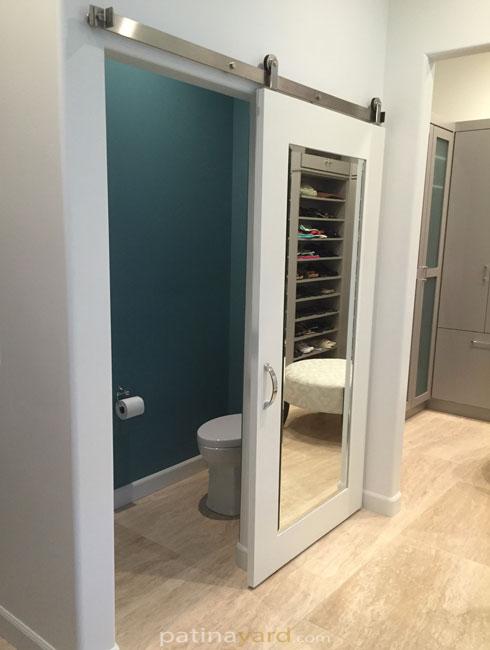 Shaker Style Barn Door With Mirror
The shaker doors are a popular style door seeing that it is a transitional style that fits into many types of settings. The shaker style barn doors can be painted any color and any type of hardware can be used with them.
Rustic Barn Wood Door
This door is made using barn wood and a standard style box rail. The box rail barn door track had a patina applied to it along with the handle. The barn door is 9 feet tall and 42 inches wide.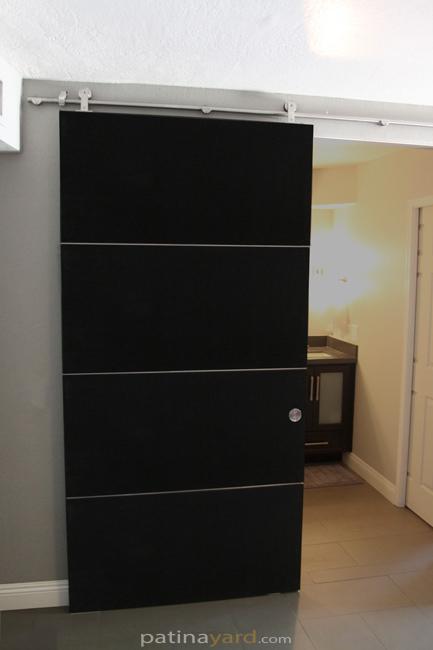 Modern Barn Door
This modern style barn door was made to be light and to roll quietly. It is made in four sections of a strong hollow core with a laminate on all eight sides. Brushed stainless seams, barn door hardware and handles. There are several different great looking laminates available.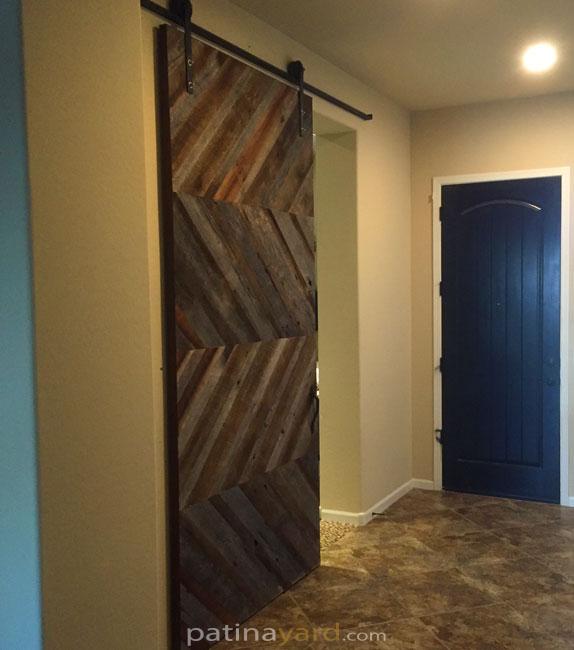 Chevron Pattern Barn Door
The featured barn door has a chevron pattern and is made from reclaimed red and white oak barn wood. It has heavy duty blackened steel barn door hardware. This door is clean and well built, it compliments any style.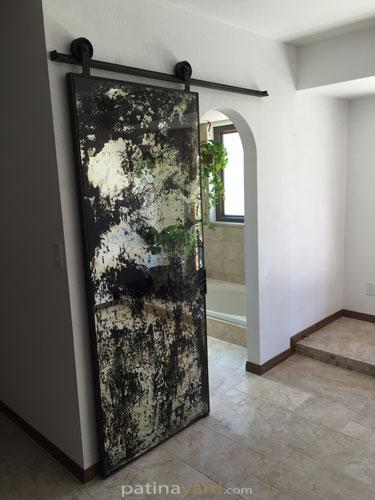 Antique Mirror Barn Door
This antique mirror barn door is very unique because every custom mirror is hand done individually. There are many techniques with this element, two way mirrors and various styles. The barn door hardware in the featured door is made of patina steel and iron rollers with bearings.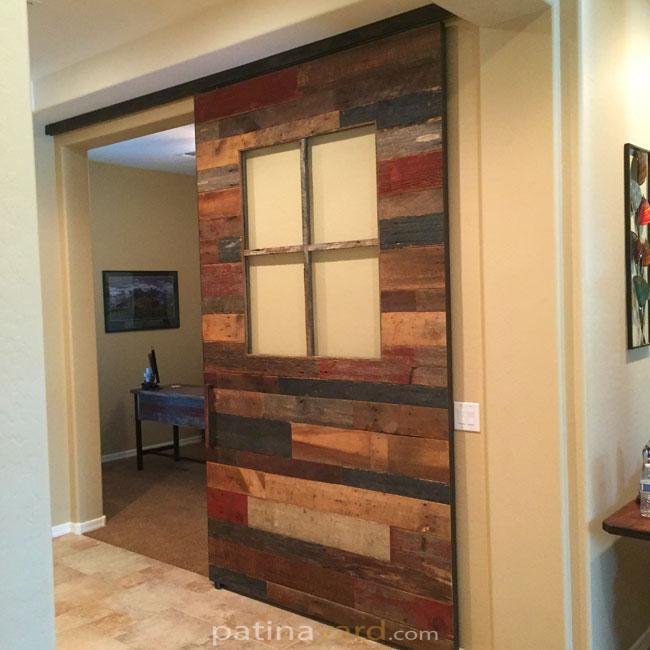 Barn Wood Barn Door
This unique and beautiful custom barn door is made using barn wood that is from the East Coast consisting of red oak, white oak and popular woods. The barn door is made with a window feature that gives this door a clean and traditional look.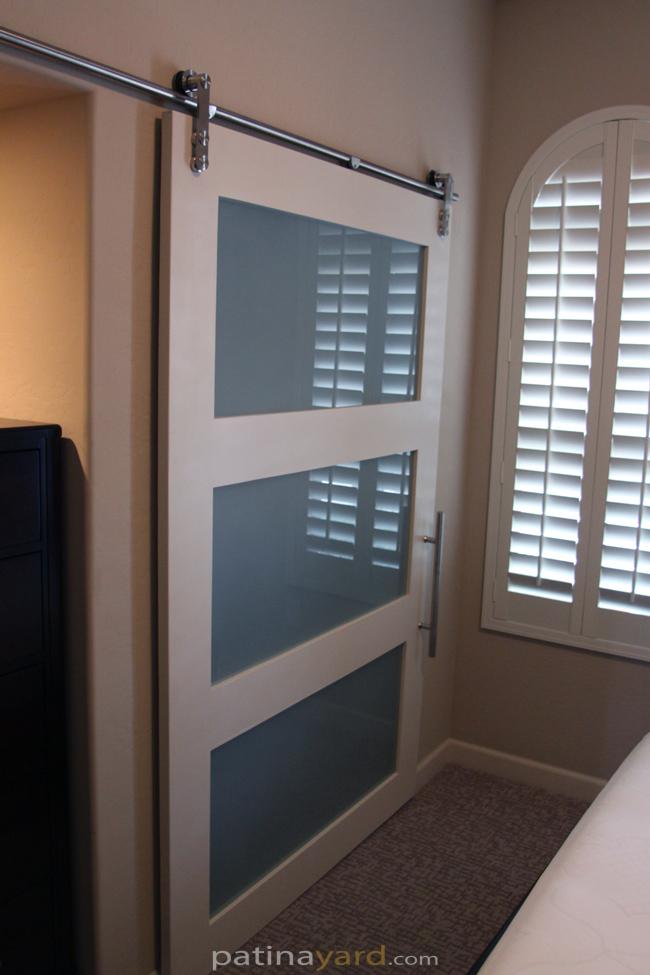 Simple Painted Barn Door
This door is a simple design with a solid wood frame, satin glass and stainless steel hardware.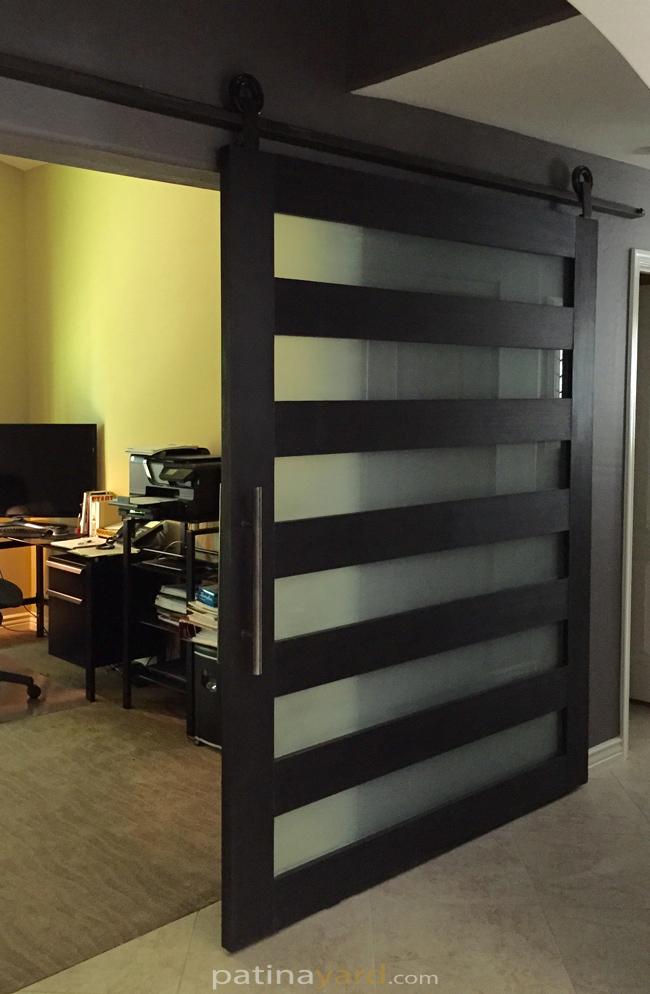 Contemporary Style Barn Door
Large contemporary sliding barn door utilizing satin glass with a veneered hollow frame to keep the door light. Hardware is our own custom made using bearings to make it roll with ease.
Traditional Style Barn Door
Barn door is made of wood that has been mortised together making it a sturdy straight door. Hardware is the same hardware that would be used on a barn with a zinc plating that we polished up and applied a matte clear finish.
Double Sliding Metal Barn Door
Custom double sliding barn door with custom barn door hardware. Designed, built and installed by Patina Yard.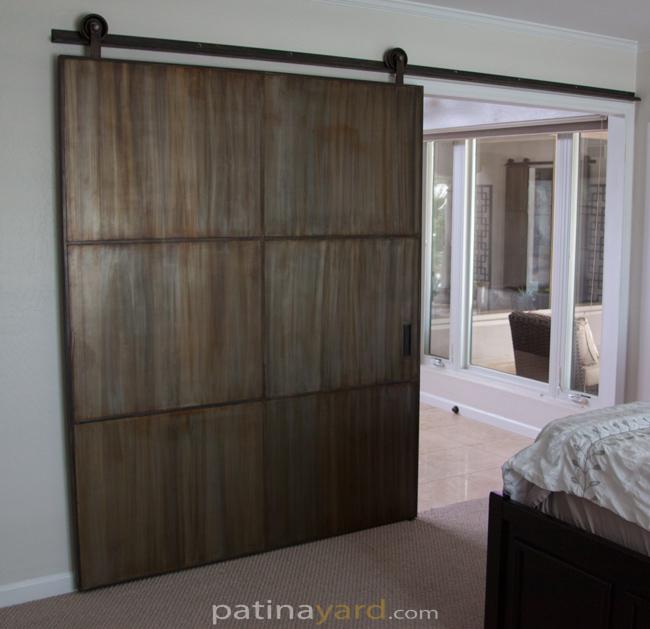 Contemporary Metal Barn Door
Sliding barn door is made using iron and steel with a custom patina finish. Simple but clean custom barn door hardware works with ease and will last a lifetime.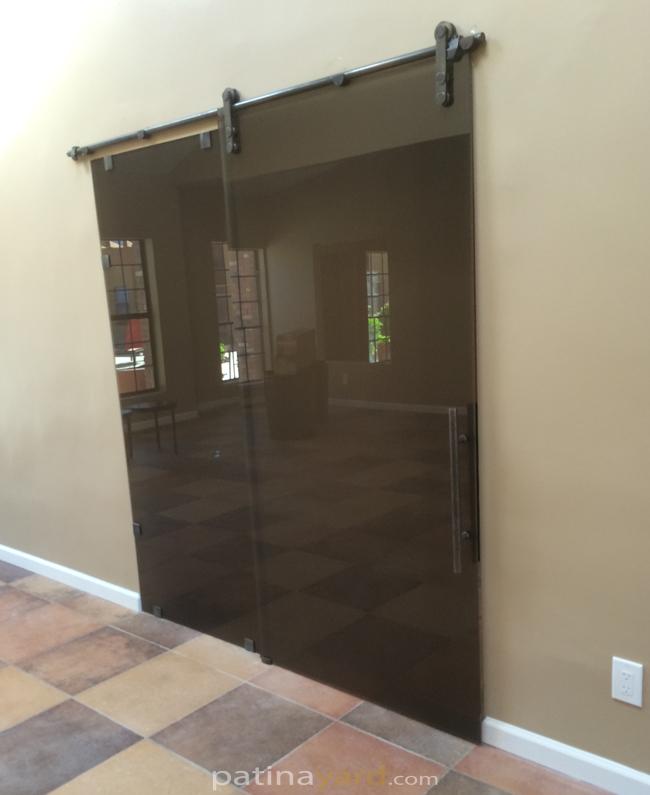 Bronze Glass Barn Doors
Glass is a 3/8'' tempered bronze glass with a satin finish on backside leading into an office area.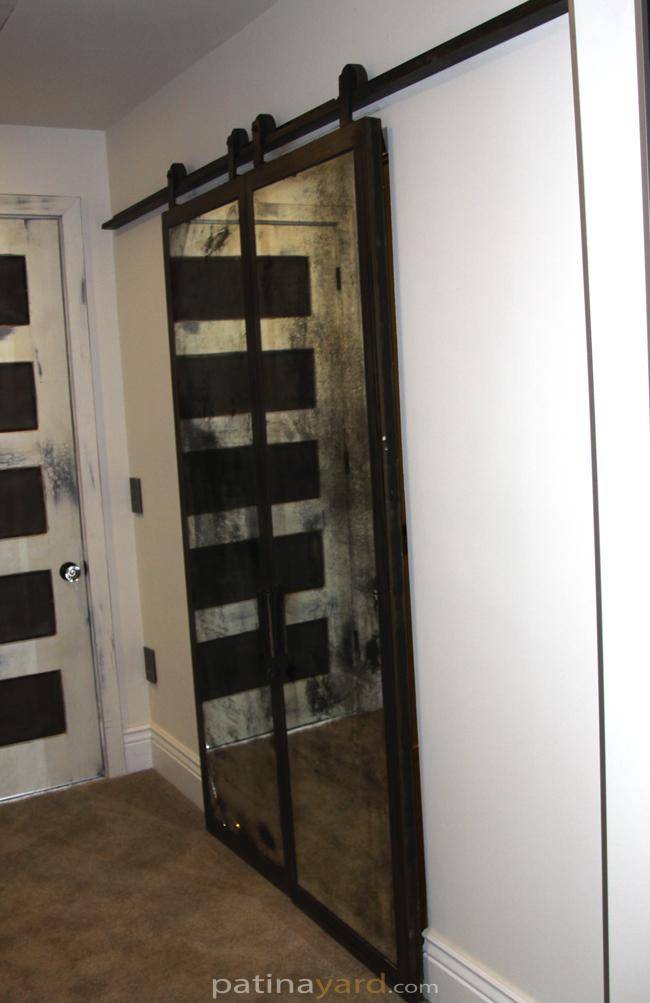 Antiqued Mirror Barn Doors
We antiqued the mirrors and patina-ed the metal along with making the custom hardware, giving the look of a very old vintage style barn door.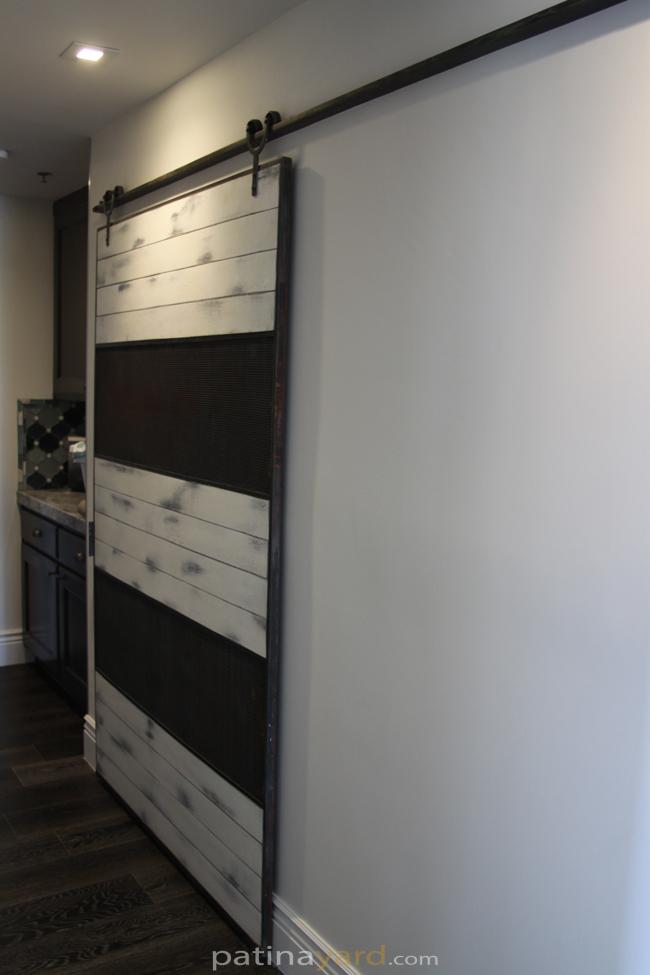 Antique White and Blackened Iron Barn Door
Antique barn door using a white antiqued wood and patina steel and custom hardware. Barn door is used for a hall laundry room and wood to match the custom interior doors that we also designed and built.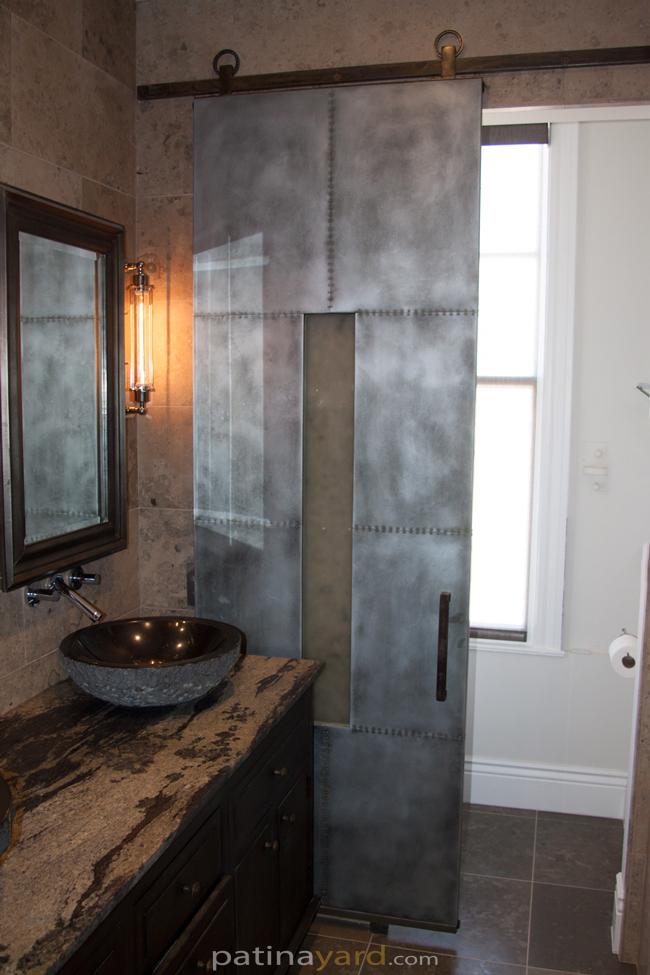 Zinc Barn Door
Barn door made using zinc and small nails at the seams giving it a unique look with a satin glass panel for privacy and our own custom patina steel barn door hardware. Zinc has a black antique patina with a clear satin finish.
Weathered White Barn Door
White weathered contemporary barn doors we designed, built and installed today in a Phoenix home for the master bedroom and office off the bedroom. Doors are nine feet tall with satin glass with our custom made hardware to roll with ease.
Modern Barn Door
We custom designed this modern barn door for a Phoenix home using wheel bearings for the wheels for the door to hang on. Using frosted glass, stainless steel and steel that has been clear coated. The barn door hardware works great and we are in the process of designing a new door that has three equal panels on both sides that can be interchanged with our Crete Board, frosted glass or wood. The door will have more of a contemporary look or could have an industrial look as well.