Patina Yard Custom Furniture
Patina Yard builds custom furniture using wood of all types as well as metal and glass. We can work with your design or our design to create very unique pieces of furniture that will last a very long time. Our style of furniture that we build in our shop is contemporary, industrial, modern, retro, vintage and some transitional. We will work with you to come up with the most unique furniture pieces.
We Design Build and Ship
We crate and ship all over using UPS Freight to your door step or business or if you live in Phoenix you could come on down and see us.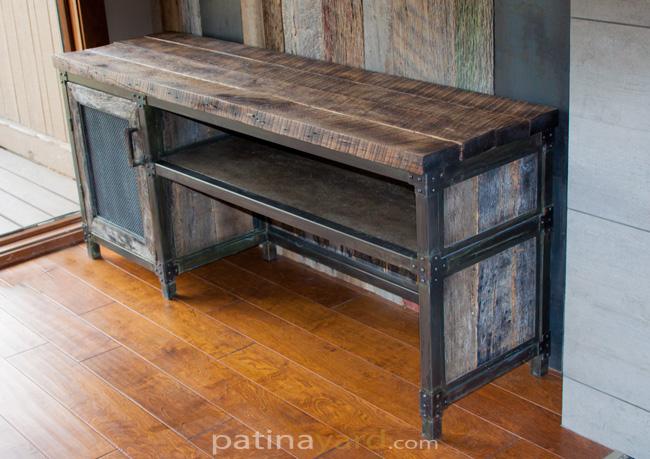 Credenza Made With Barn Wood
This credenza we made for a customer in Durango Colorado using barn wood and a patina metal frame. We used a cool wire mesh for the cabinet door so that the remote controls could run the equipment. ...
Industrial Style Table Set
Table is made with patina iron, rivets and a zinc top. Chairs are lightly charred with metal legs....
Upper East Side Desk
The Upper East Side Desk is made with metal and Creteboard keeping the design clean and urban contemporary. The metal has a patina finish. ...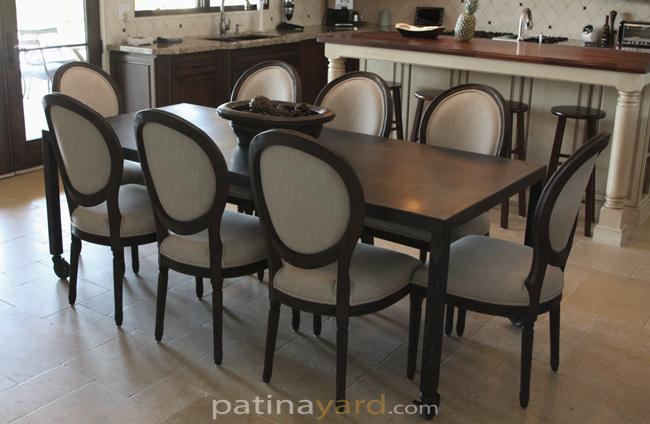 Blacken Iron Dinning Table
Table made of hot rolled steel with locking casters makes a great kitchen table that will last a very long time. We make dinning and kitchen tables to order with many options of patina's and finishes. We work with all metals, wood reclaimed or new. Contact us if you would like us to design a dinning table for you. ...
Custom Hardwood Trestle Table
Trestle table made with ash hardwood with a custom finish. Table has been built without any nails or screws the old fashion way. This table is built to last lifetimes. Can be made with any wood, any size and finish....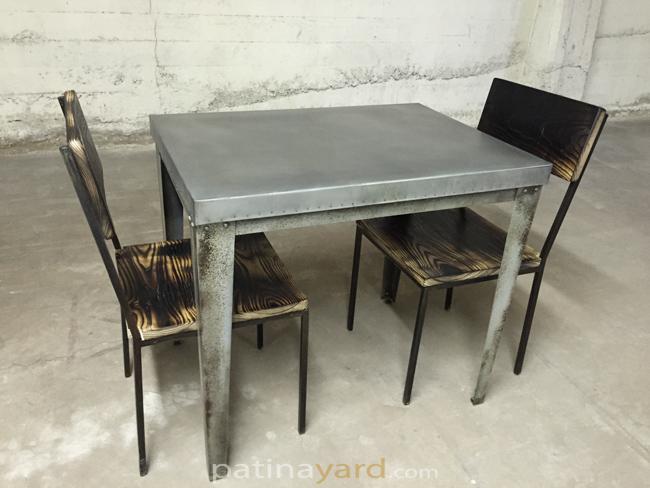 Industrial Table and Chair Set
Table base is made with formed patina steel legs with adjustable leveler feet and zinc top. Table could be used inside or out....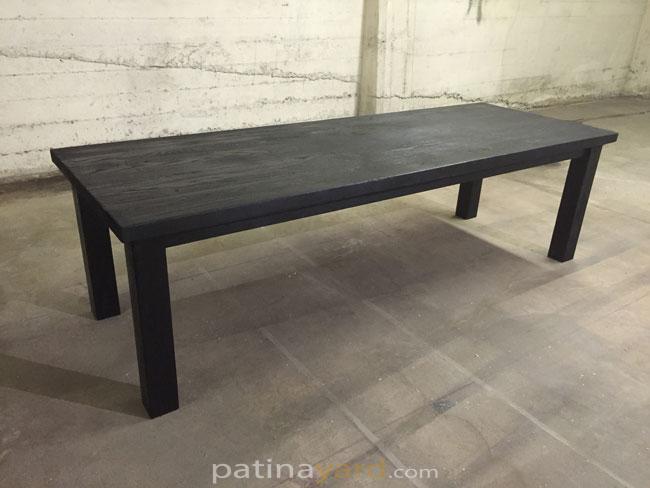 Charred Wood Table
Table is made using ash hardwood that we charred using a large torch. This is known as Shou Sugi Ban and started in Japan. Table is mortise and tendoned together using no screws or nails. The charring gives the wood a rich black look with lots of character. Table has a matte clear finish that makes the table easy to clean and maintain. ...
Custom Contemporary Coffee Table
Custom coffee table is made with a stainless steel frame and wenge wood top. Wenge wood is an African wood that is dark brown naturally and has a very nice contemporary look. ...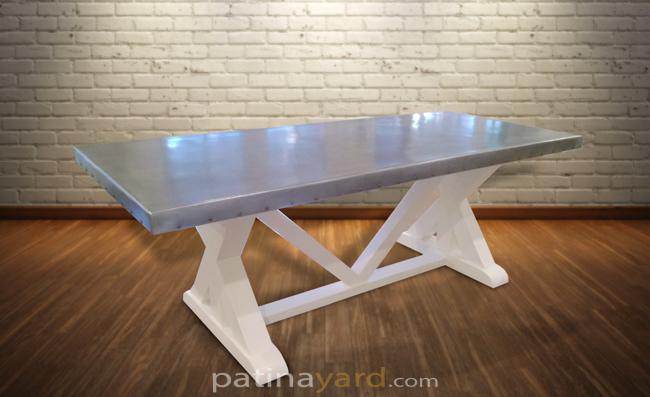 French Style Table with Zinc Top
Custom built table base made of wood using chalk paint and a glaze with custom made zinc top....
Industrial Table
Industrial wood and metal table using a zinc top cast iron casters. Wood is white oak stained dark walnut and iron is blackened using patina....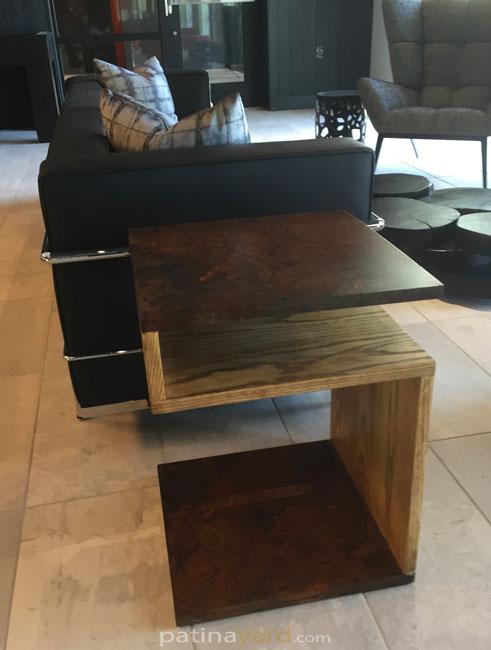 Contemporary Modern End Table
Coffee table made with hardwood and patina metal. This clean and simple design allows us to use many other types of wood and patina colors. ...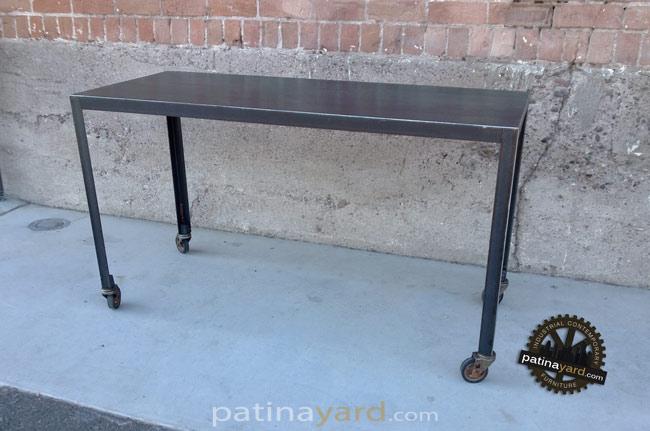 The Dylan Desk
Simple design, this industrial metal desk is made of hot rolled steel with casters. Can be made in any size and used as a kitchen table, desk or coffee table.

Industrial Metal Furniture

...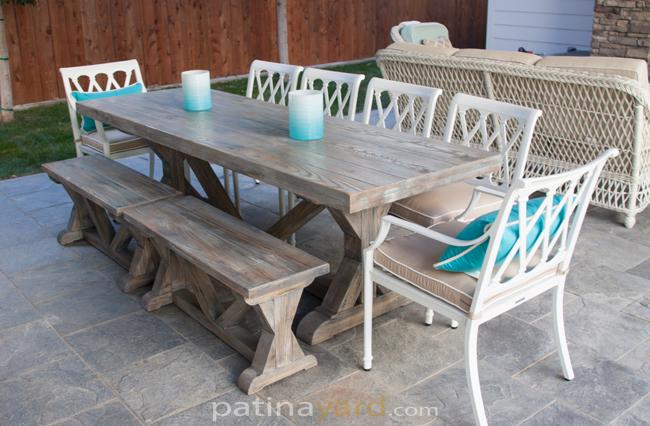 Driftwood Trestle Table and Benches
We designed and built this table for a customer living on Coronado Island in San Diego. We weathered ash wood to look like driftwood and the table is 96' x 33'. The table is mortise and tenon together and the only screws used are the screws that hold the top down to the base. ...
Turn Log Wood Stool
The log stool was made from a reclaimed telephone pole. We put the log on the wood lathe which starts from a pretty large piece and we turn it round and curve out a shape. Then we lightly char it and hand carve making every log unique and a treasure. ...
Charred Wood Log Stool
Reclaimed telephone poles log stools. We put these logs on a wood lathe turned them till they are round and carefully cut the rectangle out of the bottom. Next we sand the logs and hand carve creating crafted unique texture. Finishing steps we char aka "Shou Sugi Ban" a Japanese technique that's been around for hundreds of years the log stools underside, sides and top. Next we carefully brush and sand then apply a matte clear finish. Charred Log Stools work great in living rooms, entries, lobby's, bar, patio heck everywhere. ...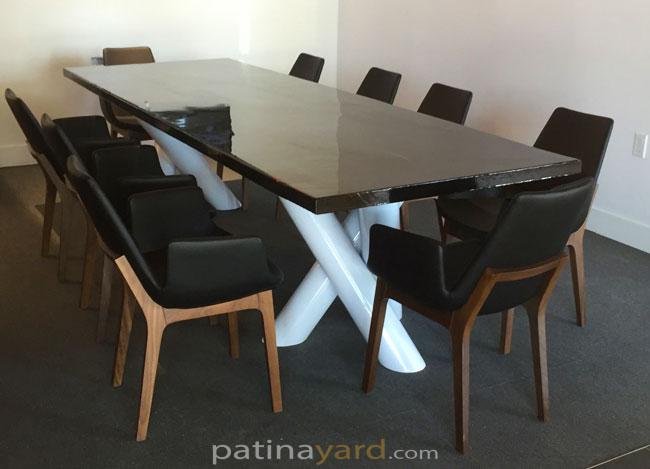 High Gloss Charred Wood Table
Charred wood table top with a high gloss finish and steel tub powder coated base makes a nice modern style table. Photos do not do this table justice....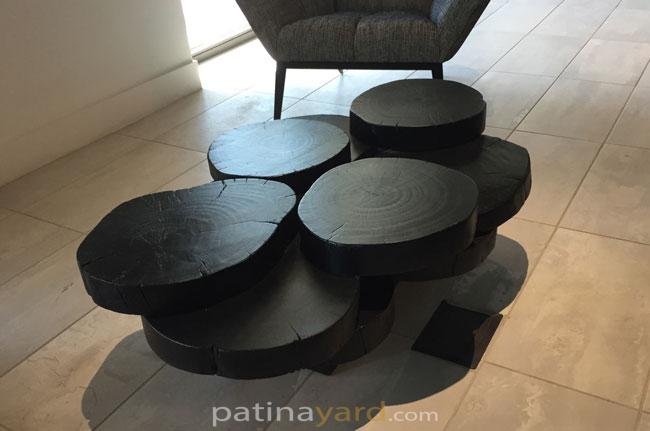 Charred Log Coffee Table
Table is made with ash hardwood logs making every table top unique. Table is 48' x 36' x 15' Logs are heavily coated with a matte sealer and appear to be floating. This can be made to any size. ...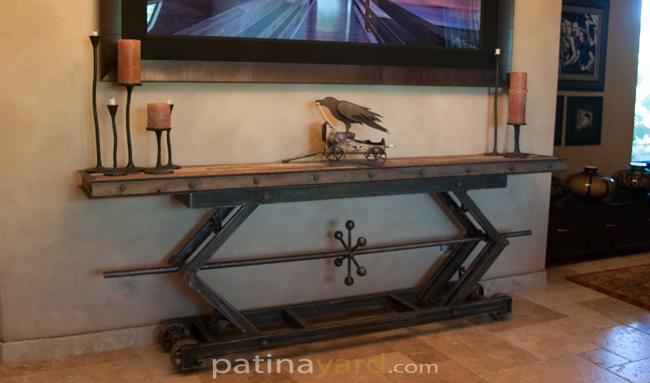 Industrial Scissor Table
Industrial style table is made using patina iron and reclaimed wood. Table is 9' long x 16'' deep. Height is adjustable....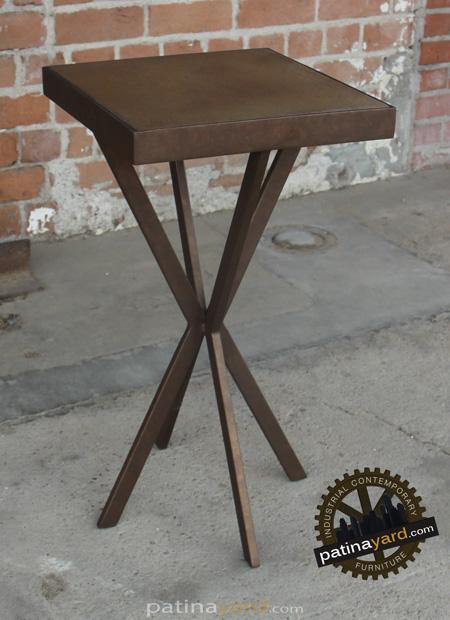 Contemporary Metal Pedestal
Contemporary pedestal with a patina and Crete-Board top with a dark walnut patina. Pedestals are good for art work, flowers and lamps and are very sturdy. Custom sizes are available.

Contemporary Metal Furniture

...