Custom Modern Style Barn Doors
We create custom modern barn doors using metal, glass, wood, 3-form as well as other materials to create a minimalist style. We design modern barn doors that offer clean lines and neutral colors that are perfect for any modern space. Modern sliding doors are aesthetically beautiful as well as functional.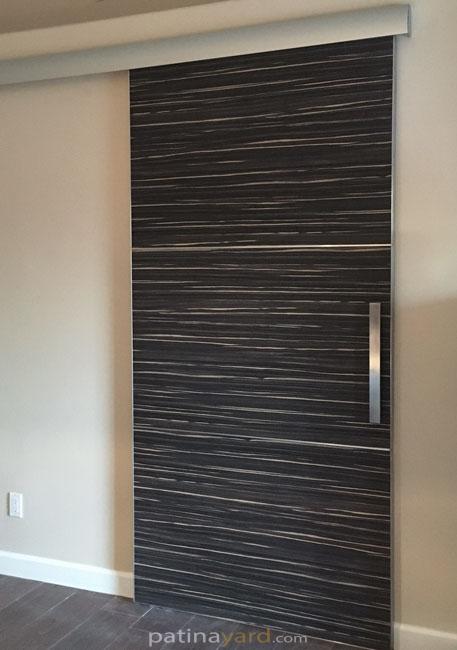 Modern Sliding Barn Door
Modern barn door is made using laminates "veneers". The laminate comes in many different colors and textures. The modern barn door hardware is made of brushed aluminum and is easy to install. Take a look at the option of laminates from our side menu to see all options.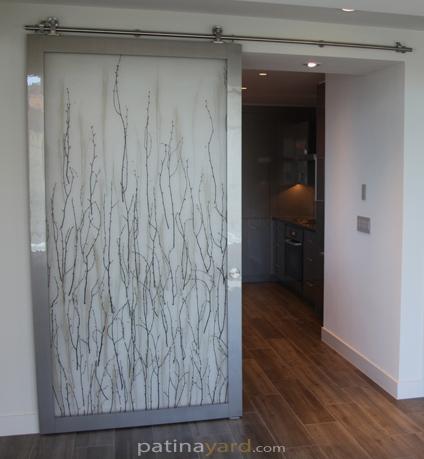 Modern Barn Door
Modern sliding barn door made using 3-Form made of Ecoresin with small branches in it. The door frame has a laminate called Brush Mercury with a high gloss finish. Hardware is brushed stainless steel.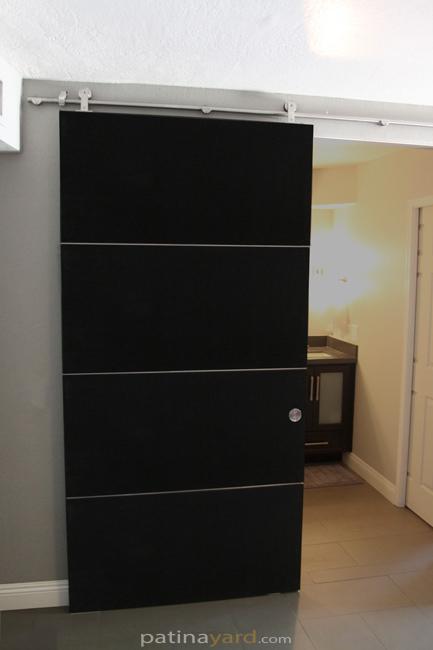 Modern Barn Door
This modern style barn door was made to be light and to roll quietly. Its is made in four sections of a strong hollow core with a laminate on all eight sides. Brushed stainless seams, barn door hardware and handles. There are several different great looking laminates available.
Modern Barn Door
This barn door we custom designed for a Phoenix home using wheel bearings for the wheels for the door to hang on. Using frosted glass, stainless steel and steel that has been clear coated. The barn door hardware works great and we are in the process of designing a new door that has three equal panels on both sides that can be inner changed with our Crete Board, frosted glass or wood. The door will have more of a contemporary look or could have an industrial look as well.