Patina Yard Custom Metal and Wood Work
Patina Yard can build anything out of metal whether it's your design or ours, we provide Autocad drawings of all work for pre-approval to assure the work is accurate. We work with well equipped vendors providing laser work, forming, water jetting, plating and suppliers that supply reclaimed barn wood, metal, hardware and glass to provide the very best quality of work.
Custom Polish Stainless Steel Vanity
Custom powder room vanity made with stainless steel that has been polished. Top is made of concrete with a glass vessel sink.
Industrial Steel Fireplace Design
Contemporary industrial style hot rolled steel fireplace we designed and installed in a home in Scottsdale. Large rivets were placed at the seams to compliment the carefully place seams. Along with giving the design a heavier look but a clean design.
Custom Scottsdale Fireplace
Scottsdale home custom fireplace designed by Colleen of Pawling Design & Associates. Patina Yard built and installed barn wood, patina metal mantel, iron bottle rack and concrete surround.
Elevator Wall Feature
Wall feature designed by Est. Est. and installed by us hides the door to the elevator and closet in a penthouse over looking Tempe.
Ceiling Feature
Ceiling feature was designed by EST. EST. for a penthouse along Tempe Town Lakes. The rectangle boxes are light weight with a painted aluminium frame and MirrorFlex on the under side. We used stainless steel aircraft cables to suspend from the ceiling.
Wall Feature
This wall feature was made using barn wood and hot rolled steel, it really set the room off giving it a warm feel.
Industrial Metal Cabinet
Located at the Scottsdale Waterfront leasing office, we built this industrial patina steel cabinet with concrete tops. This 13 foot cabinet has adjustable steel shelves built in one piece.
Petite Buffet Area
Petite buffet area added flavor to a Paradise Valley home using zinc for the shelves with custom french style corbels. Counter is white concrete on a white wood base using modern weaved baskets from Westelm.
Modern Fireplace Design
Modern fireplace using a stainless steel flashing, hot rolled steel in firebox, wall coating and concrete hearth giving it a very eclectic modern look.
Fireplace Hearth and Burner
Custom made stainless steel burner and filler and white concrete hearth.
Contemporary Fireplace
This fireplace was a remodel and we added our Crete-Board around the fireplace and capped off the ends with concrete.
Jack Table
Jack Table is made using a custom contemporary patina steel base and concrete top. Table is 60'' wide 29 1'2'' tall and could be used inside and out.
Stainless Steel Island
Stainless steel island with an inset of granite makes for a really clean, striking feature that is functional.
Stainless Steel Sliding Doors
Sliding stainless steel doors in front of a wet bar in a Scottsdale home in Desert Mountain have a sharp modern look that slides back into a pocket.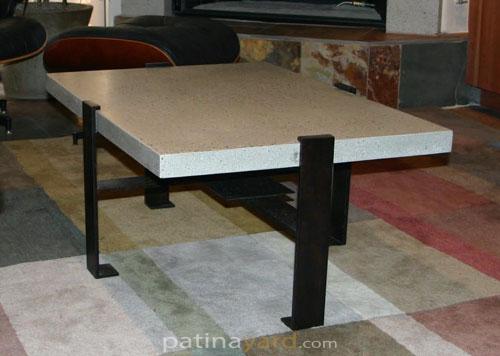 Contemporary Coffee Table
Coffee table was built for a designers home using pre-cast concrete and patina metal for base. This design is simple and contemporary.
Copper Counter and Backsplash
Copper counter has been hand hammered and a patina has been applied to give it a weathered look along with the back-splash behind stove top. Other counters are concrete counters with a patina steel edge with clavos.
Patina Steel Fireplace Surround
This custom metal fireplace surround has a patina finish and concrete hearth to give it a transitional contemporary design. Inside fireplace is lined with hot rolled steel, gas burner with white sand for the fire to escape through making the flames dance around for a nice effect.
Hot Rolled Steel Fireplace Surround and Fire Box
This fireplace is the focal point of this home. Made from our very own Creteboard that has a patina finish. The seams are made from stainless steel and accent this hearth. A hot rolled steel bench and firebox was made to give this fireplace some pizazz. A classic contemporary style with touches of modern design.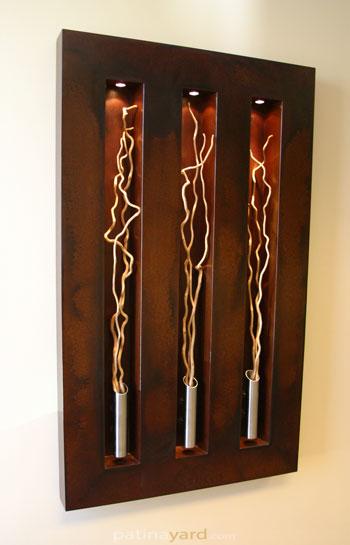 Patina Steel Wall Sculpture
We designed this patina wall sculpture that was a custom piece made to be a beautiful wall art feature. Halogen low voltage lighting was added to accent the stainless steel vases and the decor. This piece has a classic contemporary style for any home.
Ranch Light
This light was made for a ranch out in Cave Creek, Arizona using copper with a patina finish giving it an old weathered look. This light is unique and the style has a vintage feel.