Charred Wood Furniture and Walls
Patina Yard charred wood for wall cladding and furniture. Charred wood is also known as Shou Sugi Ban in Japan where its been known to been use first and has been being used for hundreds of years. The process requires charring of the wood using fire, cooling and carefully cleaning the suface before a top coat sealer is applied. You will not get any of the charcoal on you as it has been cleaned and sealed. The charred wood has no stain and a water based top coat sealer which can be used with many styles. The charred wood looks great with patina metals and stainless steel for the use of furniture and acceint walls with a variety of textures.
Charred Wood Fireplace
Custom fireplace design using charred wood, stainless steel and hot rolled steel in firebox in a Scottsdale home..
Charred Wood Pivoting Door
Charred wood pivoting interior bedroom door with custom handle and patina metal; glides with a smooth ease. Door was designed and installed by Patina Yard in a home in Scottsdale with a look of its own..
Charred Wood Log Stool
Reclaimed telephone poles log stools. We put these logs on a wood lathe turned them till they are round and carefully cut the rectangle out of the bottom. Next we sand the logs and hand carve creating crafted unique texture. Finishing steps we char aka "Shou Sugi Ban" a Japanese technique that's been around for hundreds of years the log stools underside, sides and top. Next we carefully brush and sand then apply a matte clear finish. Charred Log Stools work great in living rooms, entries, lobby's, bar, patio heck everywhere. .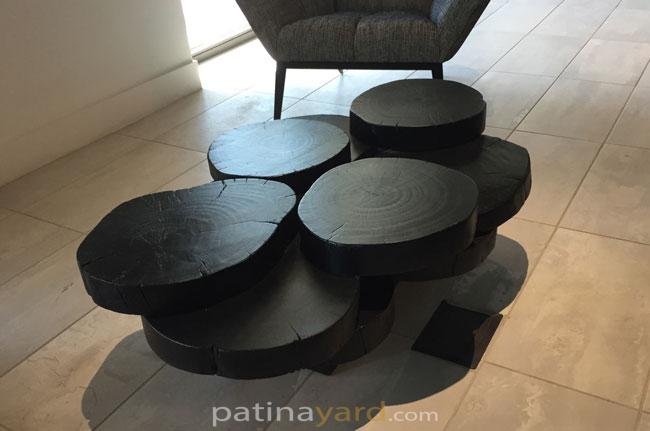 Charred Log Coffee Table
Table is made with ash hardwood logs making every table top unique. Table is 48' x 36' x 15' Logs are heavily coated with a matte sealer and appear to be floating. This can be made to any size. .